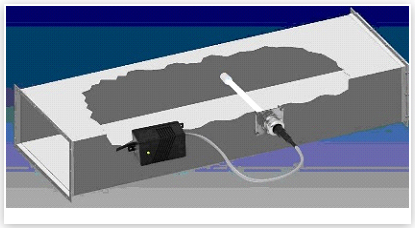 Ozone is a very powerful oxidating and disinfecting agent. Therefore is used in several applications.
For example in Food & Beverage and aquaculture application ozone is used to disinfect the piping and distribution system. Unfortunately residual ozone must be destroyed to prevent contact with ingredients.

Also in Ultra Pure Water application ozone is often used but even here the residual ozone must be removed before using ozonated water.

The problem of residual ozone can be solved using a UV unit.
Our units are well sized to be able to destroy ozone. UV rays are absorbed from ozone breaking oxigen bonds.

Take care that UV DOSE will be much higher than standard UV dose given for bacteria inactivation.

Often these units must have clamp connections, stainless steel 316 control panels and other special requirements so don't hesitate to contact our offices.

405 - 412 AIR

405 & UV 412 AIR series is characterized by easy to use equipment. This technology consists of a UV light stick lamp to be placed inside a civil and industrial intake air duct.

UV light clears and disinfects the indoor air from bacteria, virus and molds