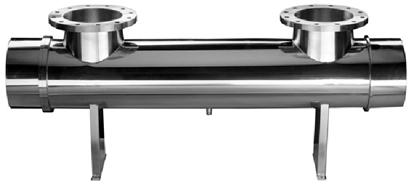 Disinfection UV units of 400 DS SERIES use low pressure amalgam lamps. Amalgam lamps have higher lifespan and efficiency than standard low pressure lamps. Lifespan is around 16.000 hrs and these lamps work perfectly with low and high water temperatures. This Series of UV system uses powerful lamps that will allow, at the same treated flow rate, the use of less lamps and so on easier maintenance. The horizontal configuration, due to the lamps length, makes the maintenance work very easy.

Automatic quartz cleaning system is available on all the models. Ask for RA series.
MAIN APPLICATION:

- Municipal water

- Waste water

- Industrial process water

- Food & Beverage industry

- Aquaculture (fresh water)

The ELECTRICAL PANELS OF TC SERIES have been supplied with a microprocessor which, besides carrying out the starting of the system, continually controls its conditions following some pre-set personalizable parameters. All these information are available on the new very user friendly TOUCH SCREEN panel.

They are supplied, according to the models, with:
control of the general working by programmable micro-processor

plant working hour-meter

resettable lamp working hour-meter

check that the lamps are working properly

monitoring the temperature inside the electrical panel

programmable multi-function display

memory blocking of the identity number of any faulty lamp

RS port for PC connection

visual alarm for faults

monitoring of temperature and irradiation, with pre-set alarm thresholds

Lamp power regulation (nãoestavanaversãoemportuguês)